In 1956, this club began the development of 40 wooded acres located just outside Tulsa, Okla. The club includes a heated indoor range, several outdoor field and 3D ranges, tree stands and an outdoor practice range with targets from 10 to 60 yards. A family-type atmosphere is maintained at the club. We invite all members of your household to participate in the sport of archery.

To obtain a membership application, click here.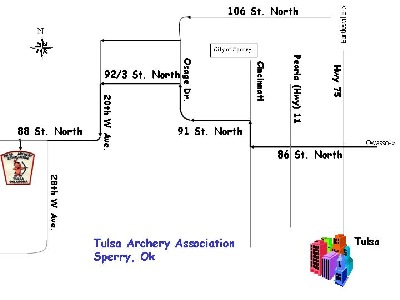 Map and Directions to Club

The club is approximately located at 3204 W. 88th St. N. in Sperry, OK.

Recent News

The 2014 Shoot Schedule is now available on the Events page.

May 3-4 — ASA State Qualifier
Shotgun start at 9 a.m. Cost is $30 per shooter. 20 targets. Shooting lower 12s only. Call Doug at 918-991-5901 to reserve your spot.

TAA now has a Facebook page! Click here to see our page. We'll post some news and other updates on there, as well as more pictures from the club and its events.