In 1956, this club began the development of 40 wooded acres located just outside Tulsa, Okla. The club includes a heated indoor range, several outdoor field and 3D ranges, tree stands and an outdoor practice range with targets from 10 to 60 yards. A family-type atmosphere is maintained at the club. We invite all members of your household to participate in the sport of archery.

To obtain a membership application, click here.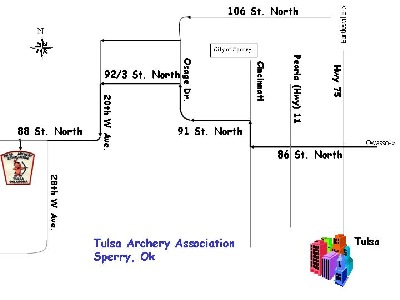 Map and Directions to Club

The club is approximately located at 3204 W. 88th St. N. in Sperry, OK.

Recent News

On Sat. Dec. 14, 2013, TAA will host an Indoor 300 Fun Shoot. Lines will be at 9 a.m., noon and 3 p.m. Reservations are required. $10 per shooter. Call Doug at 918-991-5901 to reserve your spot.

Below are the scores from the September Fun Shoot
Name Class Score
Keegan Francis Male Cub BHFS 149
Cassie Minor F CUB FS 180
Cindy Minor FBHFS 202
Tina Williams FBHFS 184
Tina Williams FTRAD 120
Paige Derrington FYABHFS 158
Tara Currie FYAFS 205
Anna Schale FYAFS 183
Sequoyah Williams MBHFS 206
Frank Welch MBHFS 196
Mark McMillian MBHFS 195
Doug Minor MBHFS 193
Karl Beaston MBHFS 183
Rick Bolton MBHFS 182
Troy Springer MBHFS 175
Chris Zibell MBHFS 163
Randy Watts MBHFS 146
Joel Rafkin MBHFS 144
Greg Gettys MFS 206
Bennie Williams MTRAD 184
Rooster Potts MTRAD 182
Ralph Anderson MTRAD 174
Tom Sweeney MTRAD 164
Jacob Welch MYABHFS 186
Seth Minor MYAFS 202
Carl Nall SBHFS 200
Dakota Willis YABH 110
Matthew Williams YBHFS 170

On Saturday, Sept. 21, TAA is hosting an Intro to Archery workshop. This is for all ages who want to learn to shoot with a bow. We will provide some safety information, give instruction on how to properly shoot and at the end you will have the chance to shoot a bow yourself. We'll have a variety to choose from - traditional, compound, recurve, etc. The workshop is one hour and we will start at 9, 10 and 11 a.m. Feel free to choose whichever one fits your schedule. This is completely free and there is no registration required.

The 2013 Shoot Calendar has been uploaded on the events page. Please check out the events we are hosting in 2013!

TAA now has a Facebook page! Click here to see our page. We'll post some news and other updates on there, as well as more pictures from the club and its events.